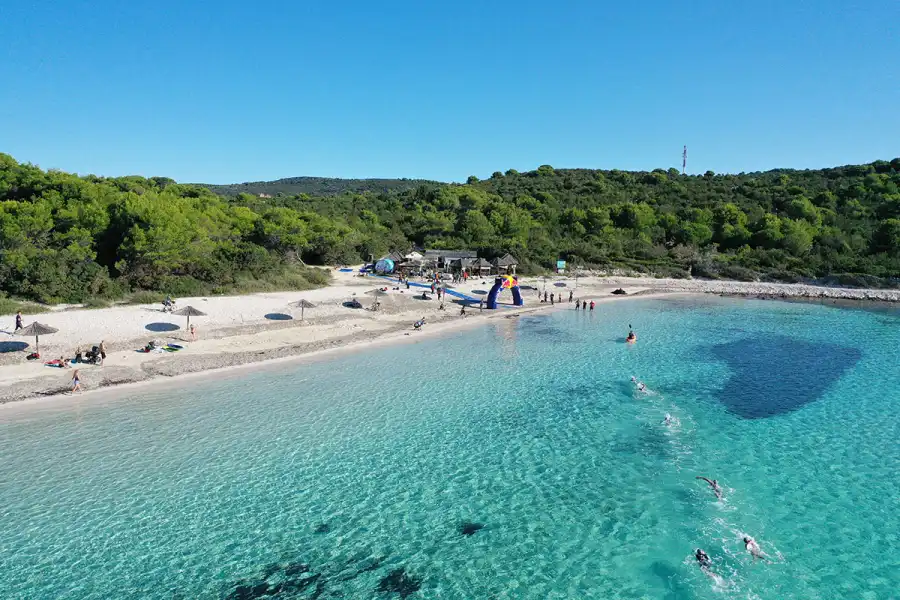 The most famous bay of Dugi otok, and among the most attractive beaches in Zadar County, is the sandy bay Sakarun. It is located on the northwest coast of Dugi otok and is about 800 meters long. The beach itself spreads on 300 m. The most interesting thing for our visitors is that at 250 meters from the shore the depth of the bay is 3.5 meters, which means that the bathing area is extremely large and shallow, and suitable even for small children.
There are no accommodation facilities in the bay itself, only catering facilities that are open from May to the end of September.
The settlements near Sakarun are: Verunić, Soline, Božava, Veli rat.
It is important to know that Sakarun Bay has been a protected landscape since 1967. The Sakarun flora contains 4 endemic, 6 endangered and 8 potentially endangered taxa, 12 strictly protected and only two taxa from the list of invasive taxa in the Croatian flora. The underwater world is rich in Posidonia oceanic meadows, so its deposits can often be found on the beach, forming structures called banquettes. These alluvia are removed from the beach to allow its use for tourist purposes which has proven to be a bad practice as thick deposits of rhizomes and posidonia leaves belong to endangered habitats. In addition to being a habitat for various amphipodic and isopodic species and enriching the substrate with nutrients, they protect beach sediment from erosion and form an efficient system for absorbing marine energy. Their removal has a detrimental effect on biodiversity, but more importantly, on the geomorphology of the beach.
So protect our Sakarun Bay!
More information on the protection of Sakarun Bay can be found at natura-jadera.com