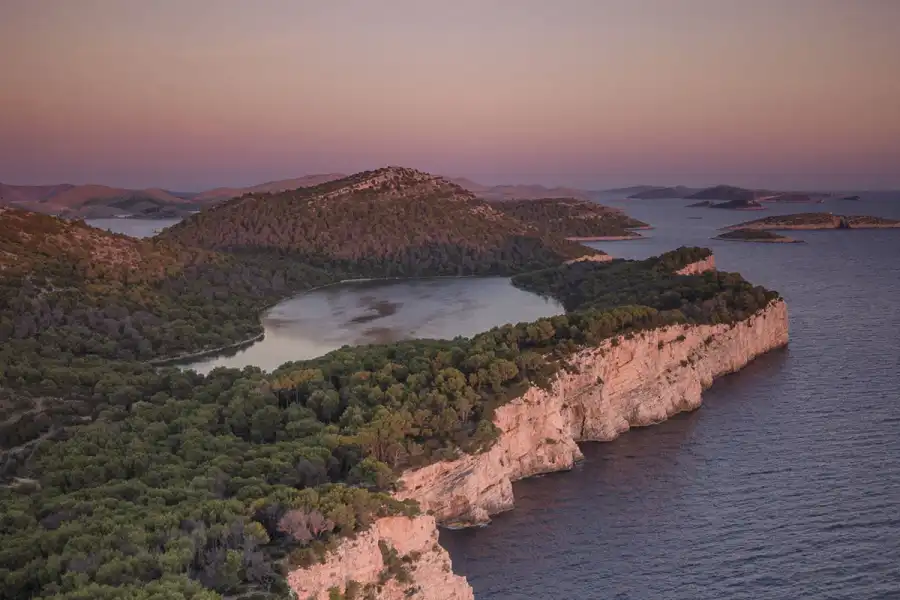 Telašćica Bay is located in the central part of the eastern coast of the Adriatic Sea, in the southeastern part of the island of Dugi otok. Thanks to its exceptional beauty, richness and importance, this bay, surrounded by 13 islands and islets, and as well contain six islets within the bay, was declared a Nature Park in 1988. It received the status of a protected area in 1980 thanks to its extremely valuable flora and fauna, geological and geomorphological phenomena, valuable seabed communities and interesting archaeological heritage.
The area of ​​the Telašćica Nature Park is an area rich in contrasts, quiet and peaceful beaches and laid coast on one side and wild steep cliffs on the other, Aleppo pine and holm oak forests on one side and bare rocky areas on the other, cultivated fields covered with vineyards and olive groves, but also the area of degraded forms of vegetation that cover dry habitats. Three basic phenomena are the main features of this area: the unique bay Telašćica as the safest, most beautiful and largest natural harbour in the Adriatic Sea, the steeps of Dugi otok or the so-called "stene", and the salt lake "Mir" with healing affects.
The total area of the Nature Park is 70.50 km2, 25.95 km2 on Dugi otok and neighbouring islands and 44.55 km2 at sea. In the vicinity are beautiful cultivated meadows and on the hills rich Mediterranean vegetation with about 500 plant species and equally rich fauna. The underwater world has over 300 plants and 300 animal species.
The nearest settlement is Sali.
If you like a more active vacation or you just get tired of lying on the beach, we have the perfect activity for you - kayaking in the Telašćica Nature Park. See our offer at the link