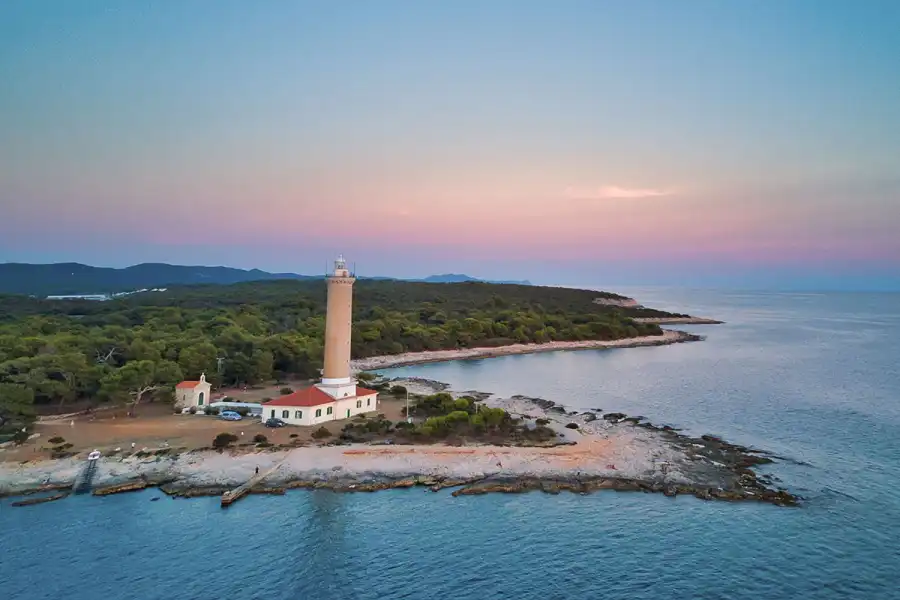 The lighthouse Veli Rat or Punta Bjanka was built in 1849 on the northwestern cape of Dugi otok and with a height of 42 m is the highest lighthouse on the Adriatic with a light range of 22 nautical miles. It is located 35 km west of Zadar.
The settlements of Veli Rat, Verunić and Polje are located near the lighthouse. The lighthouse can also be reached by car, and thanks to the road connection with the settlements, it is possible to regularly supply the necessary food. The lighthouse is inhabited by a family of lighthouse keepers, and the lighthouse is managed by Plovput d.o.o. - a company owned by the Republic of Croatia for the maintenance of maritime roads and radio services.
The lighthouse is surrounded by a dense pine forest and is a popular bathing spot due to the pebble beach nearby. Various legends are associated with it, such as the fact that 100,000 egg yolks were used for the facade of an unusual yellow colour, which still stands today. Next to the lighthouse is the chapel of St. Nicholas, the patron saint of sailors, in which is preserved the Roman Missal from 1869. Unfortunately, weddings are no longer allowed in the chapel, but they are possible in the vicinity of the lighthouse, so contact us to organize your romantic day.