Boat rental on Dugi otok
According to Croatian law, it is obligatory to have boat license for any type of motor boat.
Gasoline is not included in stated prices.
In our offer you can find motor boats, available for rent in the area of Dugi otok.
Most of the ships are located in Sali, and delivery is possible to other settlements, as per agreement.


1. Speedboat, Micore 500GT
Engine: Mercury 50HP, Velocity: up to 28nm
Maximum consumption: 12l/h
Economical consumption: 18nm - 9-13l gasoline
Maximum 5 persons, with BIMINI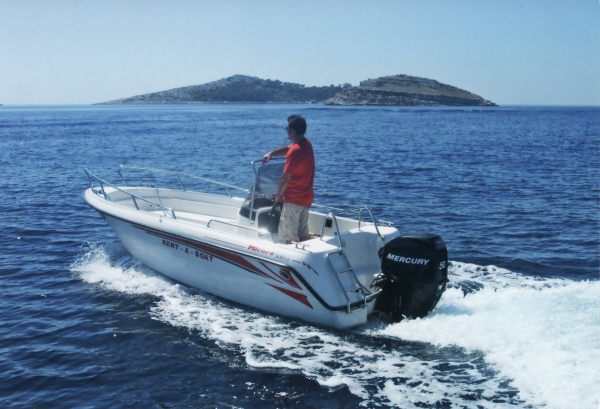 PRICE LIST RENT A BOAT (in EUR per day)

| | | |
| --- | --- | --- |
| 1 DAY/per day | 3 DAYS/per day | 7 DAYS/week |
| 150,00 | 130,00 | 770,00 |
2. Speedboat, Micore 550CC
Engine: CLASSIC HONDA 60 KS
Lenght: 5,50m; Width: 2,10m
Maximum consumption: 10l/h with 20nm
Max. speed: 28nm
Fuel tank: 25l + 10l reserve
Maximum 6 persons, with BIMINI
Equipment: GARMIN 720 GPS, life vests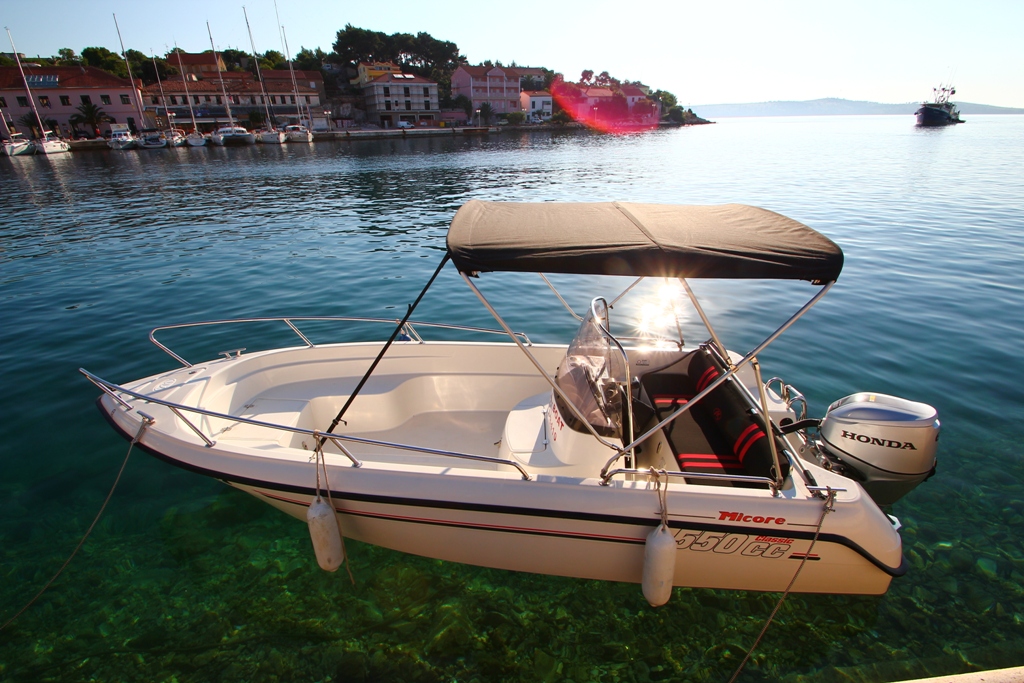 PRICE LIST RENT A BOAT (in EUR per day)
| | | |
| --- | --- | --- |
| | 01.07. - 31.08. | OTHER DATES |
| 1 DAY/per day | 150,00 | 140,00 |
| 2-3 DAYS/per day | 140,00 | 130,00 |
| 4-6 DAYS/per day | 130,00 | 120,00 |
| 7 DAYS/week | 880,00 | 800,00 |
| 14 DAYS/total | 1.650,00 | 1.500,00 |
3. Valiant 520, rubber boat
Motor: Mercury 60HP
Maximum consumption: 8 l/h
Tank: 80 liter
Maximum 8 persons, with BIMINI and life vests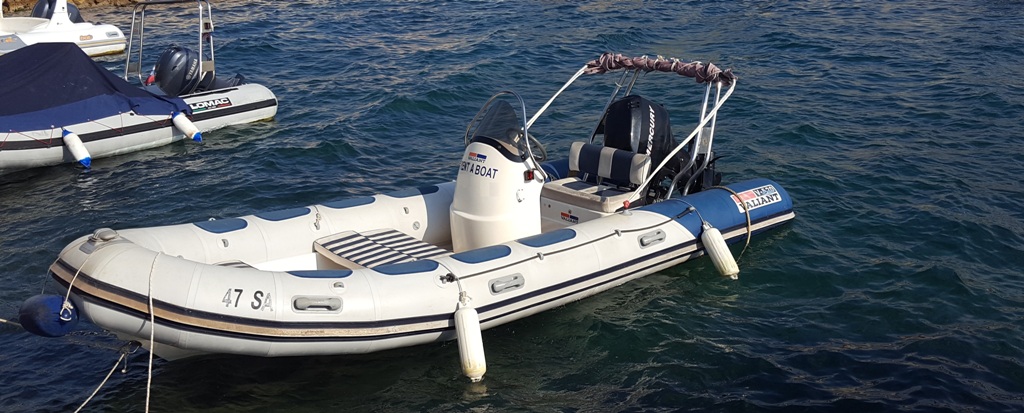 PRICE LIST RENT A BOAT (in EUR per day)
| | |
| --- | --- |
| 1-4 DAYS/per day | 5+ DAYS/per day |
| 130,00 | 100,00 |
4. Reful 490 -73 SA
Length 4.9m
Maximum 5 persons
Power engine 50 hp
Shadow, stairs for entry-exit from the sea, deck with 2 beds (artificial leather-white)
Large and little anchor; with BIMINI and life vests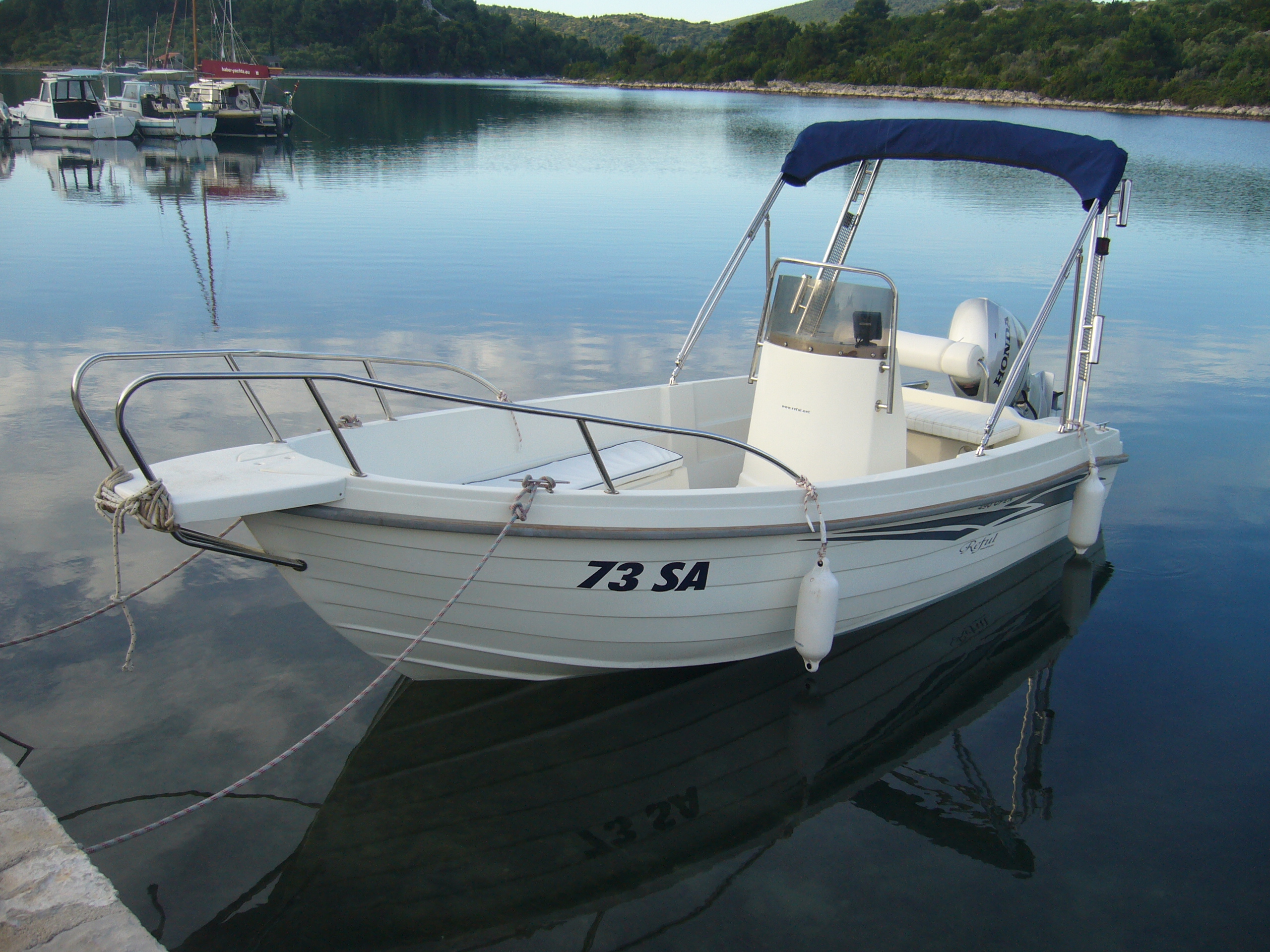 PRICE LIST RENT A BOAT (in EUR per day)
| | |
| --- | --- |
| 1-4 DAYS/per day | 5+ DAYS/per day |
| 100,00 | 90,00 |
5. Sealegend 6.3
Length: 6,30 m
Consumption: 20 -30 l/h
Motor: Mercruiser 200ks
Max. Nr of persons: 6
cabin with 2 beds, with BIMINI and life vests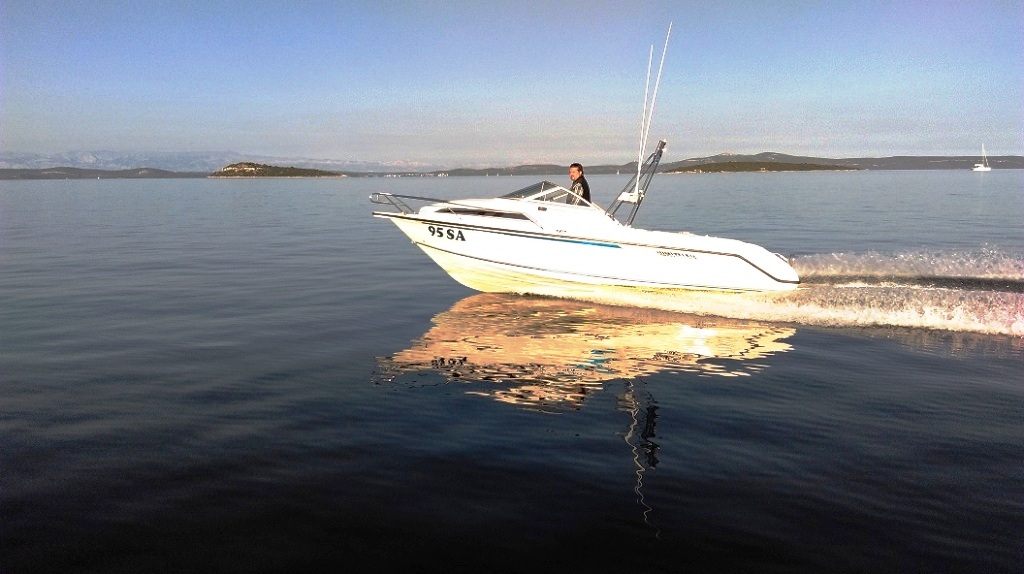 PRICE LIST RENT A BOAT (in EUR per day)
| | | |
| --- | --- | --- |
| 1-3 DAYS | 4-7 DAYS | 7 DAYS |
| 250,00 | 220,00 | 1.200,00 |
6. Speedboat Bellingardo, 128SA
length: 5,95m
gas tank: 55 l
Motor Mercury 100hp
Max speed 30mph
Cruising speed 25mph
Max Nr. of persons: 6
Year of production: 2000
Cabin for 2 persons
Fishfinder, gps, radio with USB, BIMINI, life vests, hydraulic steering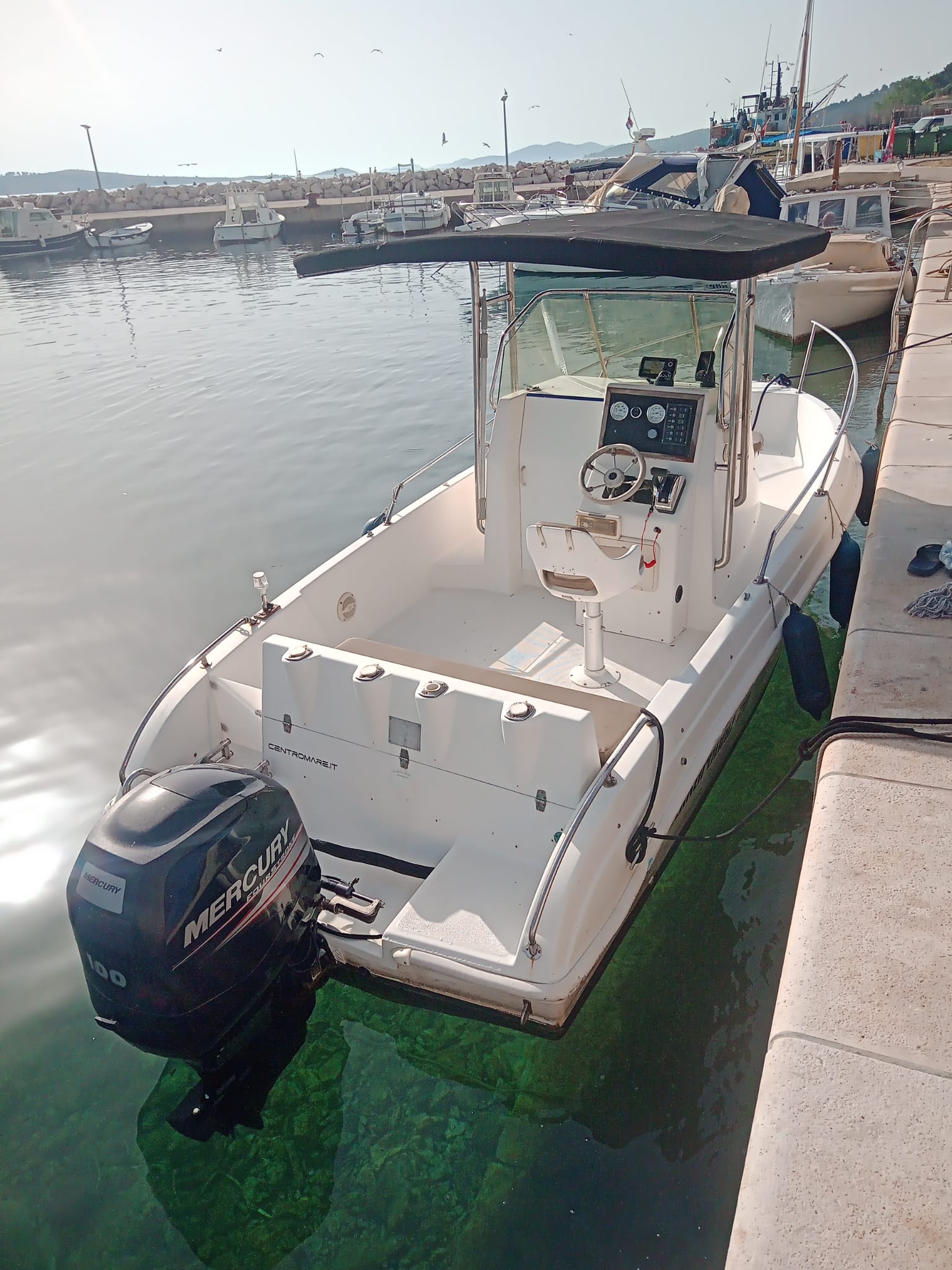 PRICE LIST RENT A BOAT (in EUR per day) - prices are valid for rent in July and August other days on request

| | |
| --- | --- |
| 1-13 DAYS | 14+DAYS |
| 150,00 | 130,00 |
7. Mercury 60
Engine: MERCURY 60,60KS
Length: 5,20 m
Maximum consumption: 8l/h
Maximum 8 persons, with shadow and ladders, BIMINI and life vests
Tank: 90 liter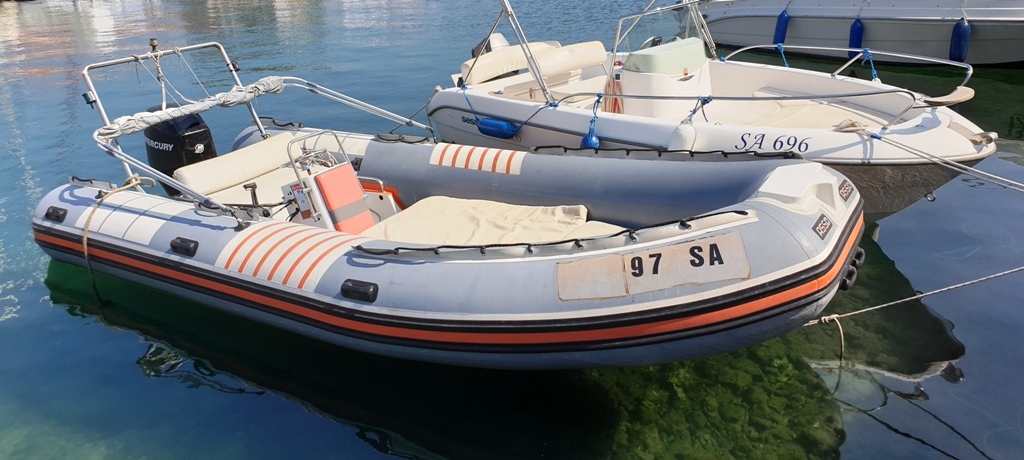 PRICE LIST RENT A BOAT (in EUR per day)
| | |
| --- | --- |
| 1-4 DAYS/per day | 5+ DAYS/per day |
| 110,00 | 100,00 |
8. 120 SA Tonka
length: 6,00 m
width: 2,40 m
fuel tank:170 l
fuel consumption: 20l/h
engine: HONDA 130 KS
Max Nr. of persons: 7
equipment: bimini, GPS Plotter/Fishfinder (Garmin), deck with 2 beds, shower on deck,
safety equipment, berthing and anchorage equipment, basic + kasko insurance, Yamaha 2.5ks auxiliary engine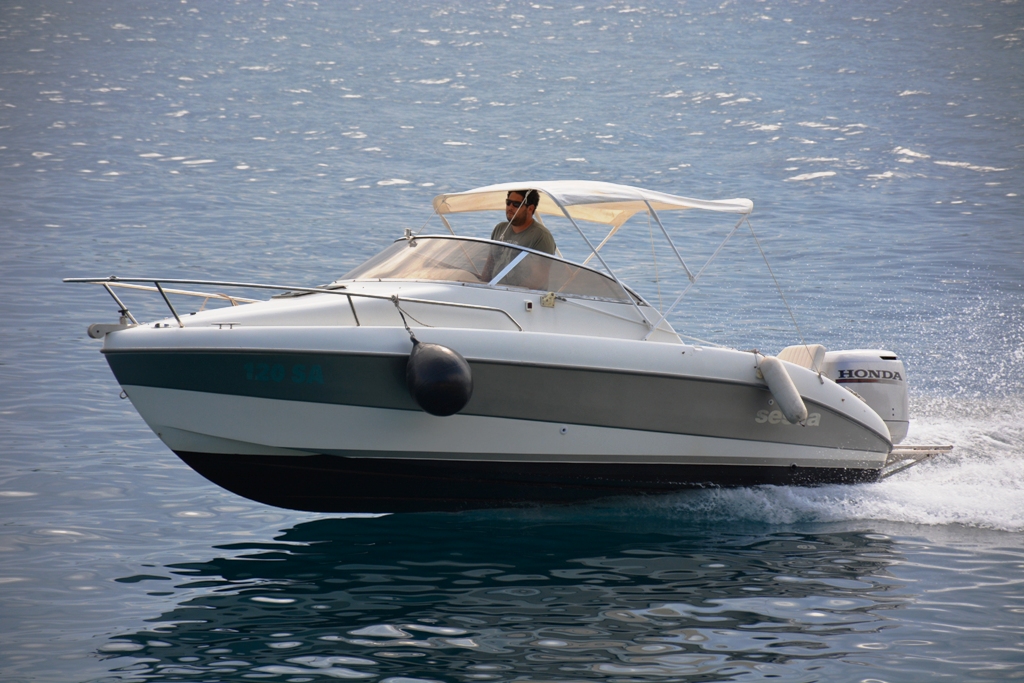 PRICE LIST RENT A BOAT (in EUR per day)
| | | | |
| --- | --- | --- | --- |
| 1-2 DAYS | 3-7 DAYS | 7-10 DAYS | 10-14 DAYS |
| 300,00 | 280,00 | 250,00 | 230,00 |
9. Fisher 17
engine Mercury 60 hp 4T, 2016 year
length 5.05m, width 2.0m
Speed up to 28 knots, economic speed of 18 knots, consumption 7 liters
Fuel tank: 70 liter
Equipment: GPS, plotter/fish finder Raymarine, bimini, ladders, pillows, two anchors; life vests
for 5 people
Kasko insurance- included in the rental price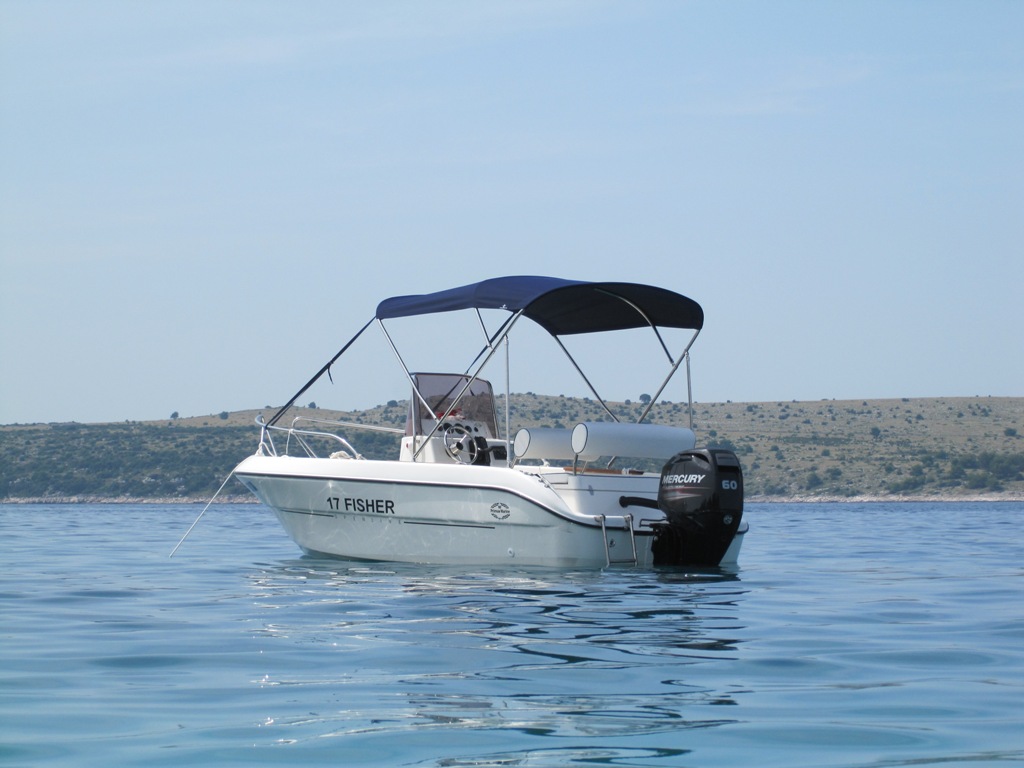 PRICE LIST RENT A BOAT (in EUR per day)
| | | | |
| --- | --- | --- | --- |
| 1-3 DAYS | 3-7 DAYS | 7-14 DAYS | 14 DAYS |
| 160,00 | 150,00 | 130,00 | 120,00 |
10. Capelli 520 Open
Engine: HONDA 150KS
Lenght: 6,10m; Width: 2,40m
Maximum consumption:20l/h with 24nm-30nm
Fuel tank: 185l
Maximum 8 persons, with BIMINI
Equipment: GARMIN 721XS GPS, stereo, GARMIN CB radio, life vests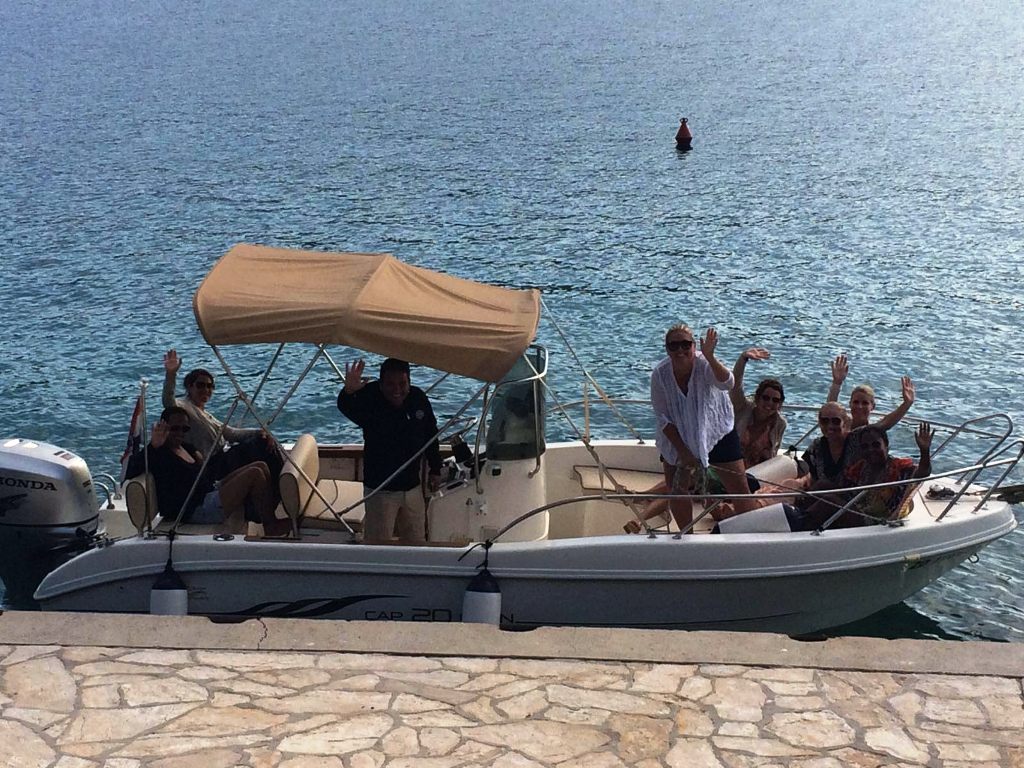 PRICE LIST RENT A BOAT (in EUR per day)
| | | |
| --- | --- | --- |
| | 01.07. - 31.08. | OTHER DATES |
| 1 DAY/per day | 230,00 | 220,00 |
| 2-3 DAYS/per day | 220,00 | 210,00 |
| 4-6 DAYS/per day | 210,00 | 200,00 |
| 7 DAYS/week | 1.400,00 | 1.330,00 |
| 14 DAYS/total | 2.600,00 | 2.500,00 |
11. Maestral 80F
Engine: HONDA 50PS, 4T
Length: 4,80m
Maximum consumption: 8l/h
Max speed: 25 Kts
Fuel tank: 50 l
Maximum 5 persons
with shadow (BIMINI) and life vests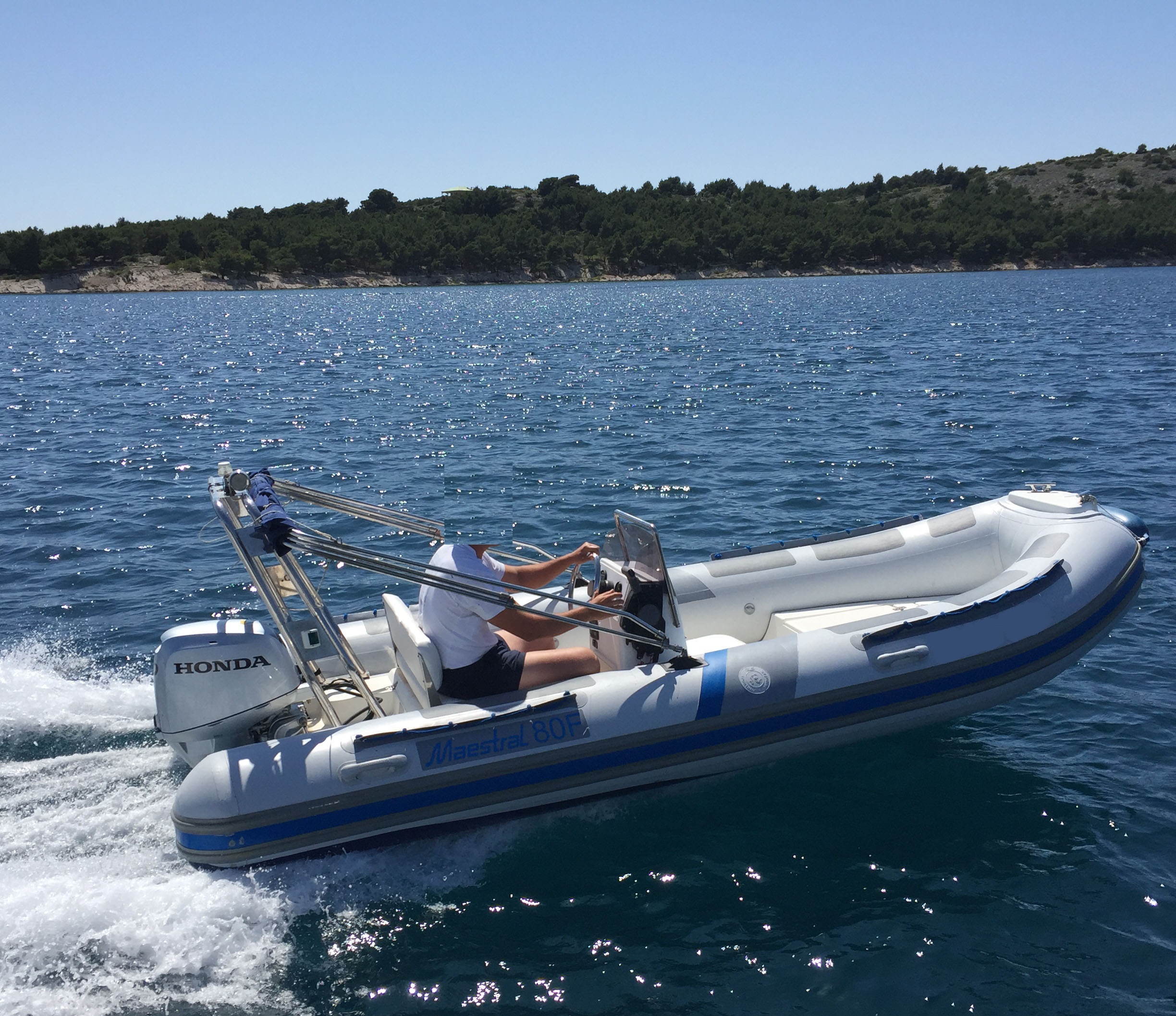 PRICE LIST RENT A BOAT (in EUR per day)
| | |
| --- | --- |
| 4 DAYS/per day | 5+ DAYS/per day |
| 130,00 | 120,00 |
12. Blueline 19, Open
Engine: 80PS
Length: 5,50m
Width: 2,20m
Maximum consumption: 20l/h
Max speed: 32 nm
Fuel tank: 65 l + reserve 20l
Maximum 5 persons
with shadow (BIMINI) and life vests, GPS, fender, anchor, paddles, ropes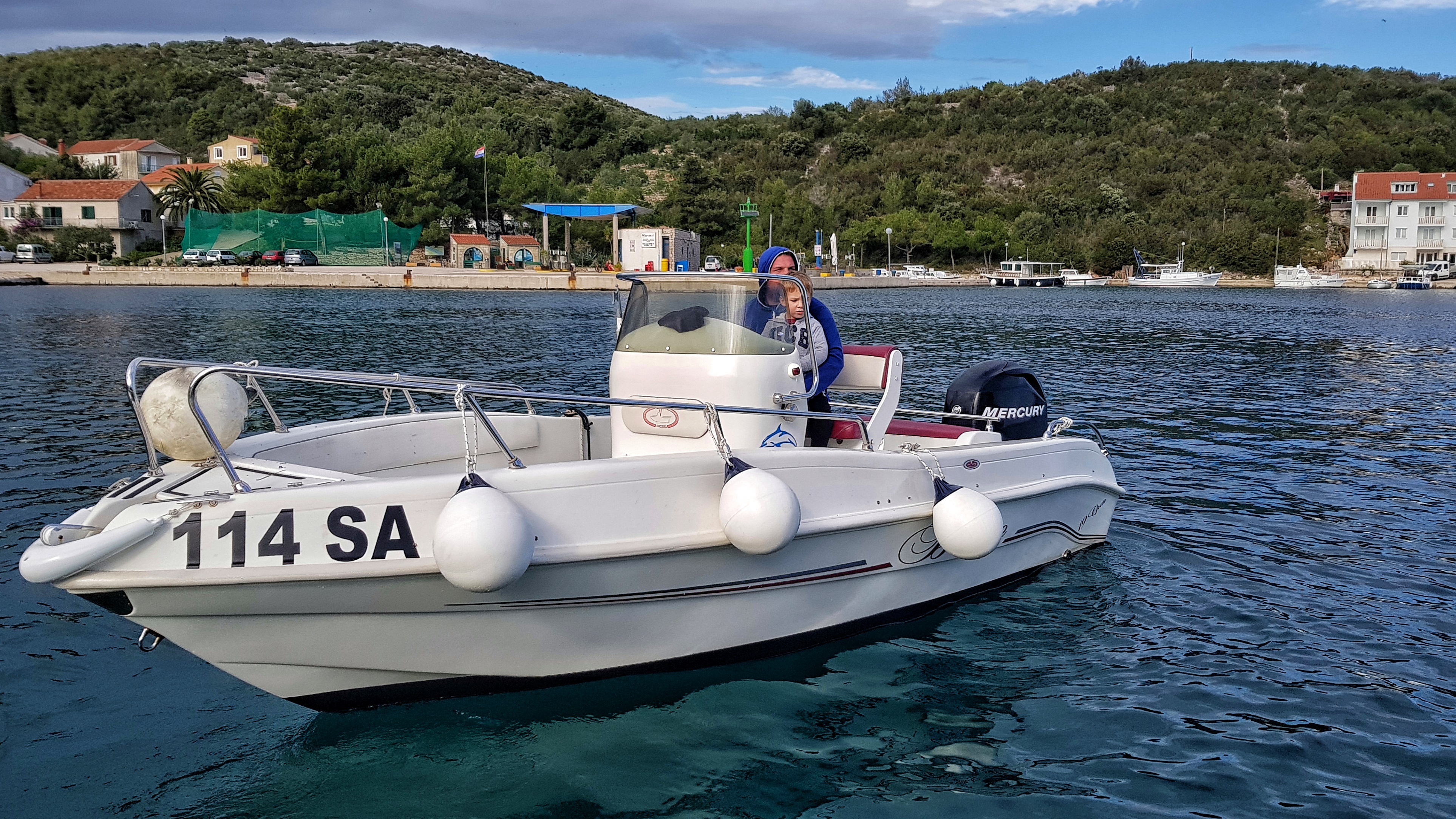 PRICE LIST RENT A BOAT (in EUR per day)
01.05.-31.05.
01.10.-31.10.
01.06.-30.06.
01.09.-30.09.
01.07.-31.08.
115,00
130,00
150,00
13. MAESTRAL 100ps
Length : 5.2m
Maximum 7 person
Engine power: 100HP
Max speed: 30Kts
Gas tank: 45L + 10L
Consumption: 14L/h
Shadow, stairs for entry-exit from the sea, sonar
Large and little anchor; with BIMINI and life vests
Full cover in artificial leather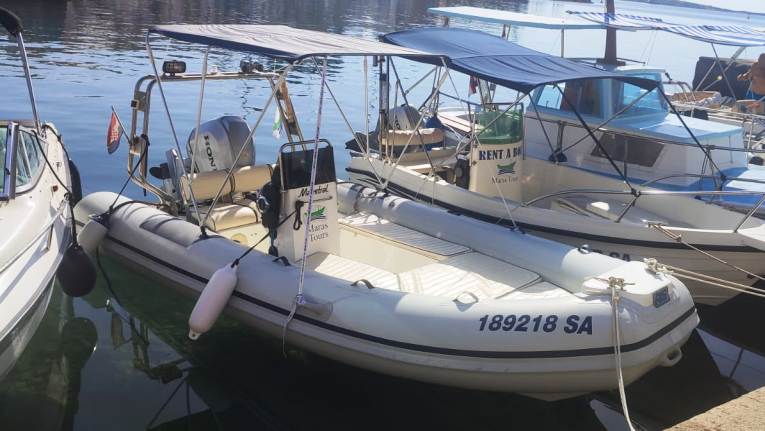 | | | |
| --- | --- | --- |
| 1-4 DAYS | 5-10 DAYS | 10+DAYS |
| 180,00 | 170,00 | 150,00 |